SquatchIt! Sasquatch Calling Device on Kickstarter
Posted by:
Craig Woolheater on July 23rd, 2013
It's official: Destination America has captured viewers' attention with its monstrous new hit MOUNTAIN MONSTERS. While Devil Dogs and Wampus Beast may continue to prove elusive, record ratings for the series have not. On the heels of helping Destination America achieve its Best Week Ever in Prime across P/M 25-54, HH and P2+ delivery, MOUNTAIN MONSTERS has been picked up for a second season slated to premiere in early 2014.
---
Posted by:
Craig Woolheater on July 23rd, 2013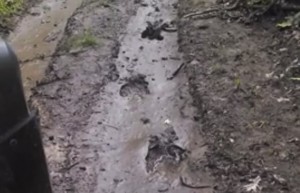 Two kids enjoying some off-road action hit the brakes last weekend when they stumbled onto a trail of three-toed footprints in the mud. They aren't certain of what left them, but they aren't ruling out a "monster".
---
Posted by:
Craig Woolheater on July 23rd, 2013
This is another video that is getting talked about in the Bigfoot Community.
Watch it here on Cryptomundo.
---
Posted by:
Craig Woolheater on July 22nd, 2013
The cast of Finding Bigfoot (Matt, Renae, Cliff and Bobo) will all be at the Bigfoot Discovery Museum in Felton to meet and greet and sign autographs from 4 pm – 6 pm on Monday July 29.
It seems that Ghost Theory has the same opinion of Bigfoot sightings lately that we do-that the sheer number of hoaxes and badly produced fakes or disappointing misidentification of Sasquatch has put us off the trail of the big guy for the past couple of months. But, Ghost Theory is "giving out some rope", as they put it, and featuring this highly questionable sighting of so-called "Bigfoot tracks", which is likely a well planned hoax because after viewing the video, we find it doubtful the guy who found the tracks had anything to do with creating them. And we'll just leave it at that...Malcom Smith profiles the elusive but well-traveled bunyip, a half mythological river-dwelling creature that has tromped through miles of the Australian outback terrifying people for centuries, and presents a treasure
trove of bunyip
encounters. Jumping over to Europe and going back a few more centuries, Esoterix examines the extremely lucrative practice of dragonslaying during the Middle Ages:
Dragons Check In, But They Don't Check Out.