B:AKK was pretty good, mostly a call-in show since the guest Jimmy Chilcutt was unable to be on the show due to technical issues and miscommunication. So, Bill and I called in and discussed the recent supposed photo from Kentucky as well as some of the more recent Bigfoot news. Hopefully,
Jordy and Abe
will have Jimmy on next Friday, 9:00 EST/8:00 Central.
---------------------------------------------------------------------------------------------------
Date / Time: 7:00 EST/6:00 Central

Category: Paranormal
Call-in Number: (646) 716-4530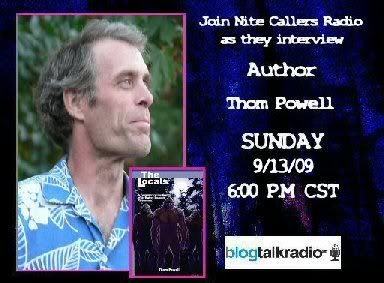 Thom Powell, a Clackamas County resident junior high school science teacher and author of The Locals: A Contemporary Investigation of the Bigfoot/Sasquatch Phenomenon has never seen a bigfoot. He is a skeptic. But in years of research, he's convinced there's no reason the creature - if it exists - could not freely roam up and down the Tualatin River. As Powell sees it, the river is a natural migration route for animals traveling back and forth between the Coast Range and the Cascades. Given the elusive and nocturnal tendencies attributed to Bigfoot, as well as the heavily wooded ravines that cris-cross the area, a large and intelligent animal could go all but undetected. "All bets are off at night," Powell said. "We are absolutely not inhabitants of the landscape at night, so whatever's inhabiting it, we have no awareness of it, we can't do anything about it, and we absolutely can't document it." Powell is of the opinion that any real life Bigfoot is likely a hominid, the scientific classifications for all animals on the "human" side of man's evolutionary divergence from the ancestors of modern apes, an even believed to have occurred some 15 - 30 million years ago. "Neanderthals may not be as extinct as we think" he said. In The Locals, Thom Powell approaches the subject as a middle-school science teacher (surely among the most jaded and cynical of professions) who used the Sasquatch phenomenon to teach the difference between junk science and the scientific method. After some years of automatically characterizing the Sasquatch as junk science, he realized that, tabloid journalism notwithstanding, rigorous scientific inquiry and the scientific method were precisely what the Sasquatch phenomenon needed. And as always, we encourage you to please tune in and support great research.