Posted by:
Craig Woolheater on September 12th, 2013
Last call. There are 14 definite registrants and another 4 tentative. Get you spot asap.Jeff Meldrum
Posted by:
Craig Woolheater on September 12th, 2013
These vocalizations have been called into question previously here at Cryptomundo.
Has this YouTube user Mikey Paterson replicated the sounds showing they are a hoax?
Or are they legitimate Sasquatch vocalizations?
Posted by:
Craig Woolheater on September 12th, 2013
This video was uploaded to YouTube with no description on July 7, 2011 with the title Lucas bigfoot footage michigan.
What do the Cryptomundians think?
Posted by:
Craig Woolheater on September 11th, 2013
David Letterman travels to Washington State to report on the legend of Bigfoot
Posted by:
Craig Woolheater on September 11th, 2013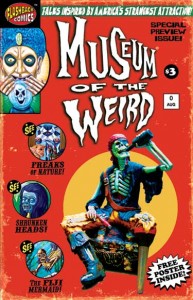 "The Museum of the Weird comic will have a heavy supernatural influence", Busti says, "as well as deal with stories of the fantastic and the unexplained, which includes delving into subjects such as aliens, ghosts and cryptozoology."
Posted by:
Craig Woolheater on September 11th, 2013
blockquote>A lady in Havana Florida catches what may be a juvenile Skunk ape on her game camera.sasquatchsociety
Posted by:
Craig Woolheater on September 11th, 2013
A 15-year-old reported seeing the creature, which he said stood about 7 feet tall on two legs as it ran in front of the vehicle the youth was driving about 5:30 a.m. The creature then disappeared into the trees along the river.
Posted by:
Craig Woolheater on September 10th, 2013
The Ketchum story top to bottom is now available online from Skeptical Briefs.Sharon Hill
Posted by:
Craig Woolheater on September 9th, 2013
In October of 2010, 2 young hunters shot a 7 foot tall animal they could not identify. It stood upright and walked like a man. This movie, Dead Bigfoot: A True Story, chronicles the events that followed the shooting in an attempt to learn more about the hunters involved and the alleged creature they killed.
Posted by:
Nick Redfern on September 9th, 2013
"Looking up, they saw an 8-9 ft. tall hair-covered creature drop down on all-fours and charge towards them with a strange gait…"
Posted by:
Craig Woolheater on September 8th, 2013

Loxton and Prothero have written a very good book, which I reviewed on Amazon as a 4.5 star effort (I'll explain why I had to downgrade it just a bit) that goes on the "must reading" list for anyone interested in cryptozoology. I've been following this field for decades now without seeing anything that fills this niche – that of the scientific, skeptical (in the good sense of the word) consideration of the entire field and its most spectacular maybe-creatures.
Posted by:
Craig Woolheater on September 7th, 2013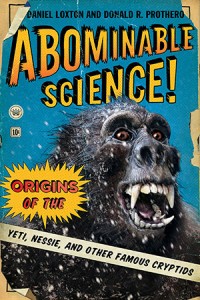 Daniel Loxton answers Daniel Perez's questions about the book.
In light of the recent Lincoln Bigfoot encounter, Loren Coleman disagrees with Jeff Meldrum's claim that Nebraska is unlikely to have real Bigfoot sightings because there simply isn't enough deeply wooded areas to support the creature. Coleman provides a plethora of reported sightings from the area to easily counter Meldrum's remarks...Cryptozoonews also reveals
new Sasquatch sightings
in Drayton Valley, Alberta that includes reports of a Sasquatch family group. Like Nebraska, Drayton Valley has had numerous Bigfoot sightings over the last few decades. Meanwhile, a local resident of Walla Walla, Washington says he's got the nearby Mill Creek fish die-off problem all figured out...clearly,
Sasquatch is a threat to Mill Creek's pristine water,
because, he says, BFRO said that Mill Creek is a major meeting place for lots of Bigfoot. That makes us picture crowds of Bigfoot having a family reunion, frying up fish, and dirtying up the water with whatever Bigfoot litter consists of. We hope they are all caught and ticketed accordingly.
Nick Redfern revisits a time of high strangeness in the Welsh town of Rhayader in 1988 when something downright Lovecraftian terrorized the area and killed livestock in such a bizarre way that people suspected it was a giant serpent...Meanwhile, a Lincoln, Nebraska sheriff is marking a different sort of cryptid anniversary--the first time he's ever investigated a report of Bigfoot. A
teen's hairy run-in with 7-footer probed as Bigfoot encounter
when the boy reported seeing a Sasquatch crossing the road in front of his car next to the Platte River. The investigation turned up a hair sample which is now being tested.
Well-known for his passion for Forteana, mainly UFOs and Nessie, Charlie Sheen traveled up to Alaska to hunt for the mythical "Otter Man", which is described as half man, half otter. Alas, Charlie was unsuccessful in his mission but has an explanation, "It obviously knew our group was far too skilled to be snowed in this fashion so it stayed hidden like a sissy." Maybe Otter Man just isn't a fan of the paparazzi either...Nick Redfern is pondering an age-old mystery that originated with smugglers centuries ago in the UK who either made up the stories or actually encountered frightening black dogs. The result was centuries of enduring legends about the
Smugglers and strange creatures.