Posted by:
Nick Redfern on August 1st, 2013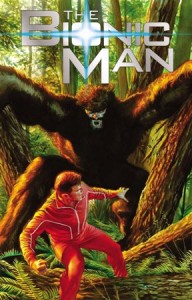 "…What is this unnatural creature of primal instincts and mechanical parts? What role does the Bionic Man play in the monster's origin? If one such Bigfoot exists, could others still roam the wilderness… or be manufactured on an assembly line?"
Posted by:
Craig Woolheater on August 1st, 2013
Origin Releasing is proud to announce the principal cast for its in-production feature film BIGFOOT WARS! The film – based on the series of best-selling Bigfoot War books by Eric S. Brown – tells the story of a small town that becomes the focal point of a brutal clash between man and a legendary beast.
Posted by:
Craig Woolheater on August 1st, 2013
Fox News host Brian Kilmeade is pretty sure that Bigfoot is real but he still can't understand why the legendary creature doesn't "come out and greet us."
In a Wednesday segment on Fox & Friends, Kilmeade spoke to Idaho State University Professor Jeffrey Meldrum about a plan to use drones to find the elusive Sasquatch.
Loren Coleman wants to know what you think about the Chinese tourist Sasquatch video and the footage of the supposed Bigfoot walking along a ridge. Loren Coleman suspects viral marketing and we just might agree. The first one has a very produced look to it while the second seems almost like a scene out of a movie. And both suffer from the stopping-the-video-too-soon affliction. Why would you stop filming when you've just spotted a Bigfoot? Wouldn't the natural reaction be to film until it's out of sight? At least those two videos show the subject relatively clearly, unlike this photo from China of...
something
, supposedly a
Suspected 'monster' appears in Tianchi Lake.
That's not what we see. In fact, we see nothing at all, other than a very blurry blob that vaguely resembles the outline of Mickey Mouse. Thankfully, this next photo of a cryptid beast is not at all blurry, but the answer to the Daily Mail's question, "
Has the legendary chupacabra turned up in Belarus?"
is a very firm "No." The "chupacabra" is actually a wild raccoon dog, a type of dog that was once bred in the area before World War II.