Posted by:
Craig Woolheater on August 4th, 2013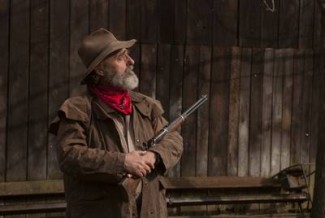 His name is John Tice, but people call him Trapper. He's a backwoods West Virginian who prefers hill people or mountain people over that other term people sometimes use. With his closest friends, Tice travels around the Appalachian region looking for evidence of mysterious, mythical creatures that have lived in the public's consciousness for generations. His group, called the Appalachian Investigators of Mysterious Sightings (AIMS), is the subject of Mountain Monsters, the new reality series on Destination America.
Posted by:
Craig Woolheater on August 3rd, 2013
Photographic evidence that the monster shark escaped extinction and is still alive today?
Posted by:
Craig Woolheater on August 3rd, 2013
Tomorrow night on the Discovery Channel, Shark Week kicks off with Megalodon!
Sick of the Warrens? Well suck it up, Malcolm's telling the tale of one William David Ramsey and his struggles with lycanthropy. Poor Bill, victim of half a century of transformations, only found peace at the hands of Ed and Lorraine Warren's favorite exorcist. Pushing seventy today, Bill's still out upon the English moors and all hope he's keeping on the straight and narrow. When it comes to wolves, most kids today will announce "Winter is coming." Jay Cooney joins this chorus with a
Relict Dire Wolf Sighting By JC Johnson
during a rafting trip down the San Juan River 'roundabout the Four Corners region of the USA. While reading the account, trust that dire wolf sounds more awesome than "donkey dog". If anyone would have a donkey dog, we'd have to look no further than Mr. Cryptozoology himself! Kathryn Skelton had the pleasure of visiting
The Only Cryptozoology Museum In The World
for its wicked, weird exhibits. Considering Coleman's cabinet is short a few yeti hairs, he may include a new audio/visual exhibit of
The Jersey Devil On Video
! Impatient? Skip ahead to 14m22s for the money shot and decide for yourself.