Posted by:
Craig Woolheater on August 19th, 2013
…a webseries called Bigfoot Roommate, a comedy about the struggles of living with a Sasquatch.
Posted by:
Ken Gerhard on August 18th, 2013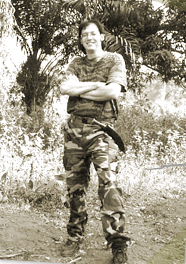 In addition to Ogopogo, John and I discuss Nessie, Caddy, the Naden Harbor Carcass, Sea Serpents and China's Yeren, as well as his recent expedition to the Congo to search for Mokele-Mbembe… which yielded some remarkable results. Join us for some fascinating conversation!
Tune in tonight @ 10pm EST/9pm CST for the new episode of my cryptozoology podcast.
There's one word that won't be used to describe the newest member of our clade of endothermic amniotes, "cryptid". Until science had proof positive of this critter, it was subject to being overlooked and misidentified. According to Loren Coleman, one specimen made it to our shores only to be bounced around since no one knew what to make of its behavior. And faster than you can say, "I Can Has Mystery Beast?" Karl Shuker revives yet another melanistic mystery beast known as
The Black Indri
. In fact, what's described as a black indri isn't an indri at all based upon the visual evidence, leaving the opportunity for speculation wide open, as Karl wonders if it could be an extant giant lemur.