The Show-Me state delivers in spades, reports Greg Newkirk scrutinizing the latest batch of pics set to rival the Patterson-Gimlin film. One could argue they're not real considering their clarity, still without video one can't be too certain. P'raps Greg will join us in popping a bottle of bubbly to celebrate Glasgow Boy's anniversary of

Still Blogging Nessie Three Years On

! If you're not familiar with Glasgow Boy's scholarly approach to Scotland's famous lake monster, here's a good place to jump in, feet first, and read his best articles we've proudly featured on our site. Finally, pipin' hot from Loren Coleman's word processor,

Monsters Of Massachusetts

is out! Grab your copy to get acquainted with the Dover Demon, the Specter Moose, and other members of Massachusett's menagerie!
Fifty years ago this year--and several years before Mothman's appearance in Point Pleasant, West Virginia--an eerily similar creature was seen at Sandling Park in Hythe, Kent, UK. Nick Redfern recounts the case and makes a call for anyone who was a witness to the event to come forward and provide details on this anniversary of the event. And speaking of strange creatures, a tourist just outside of Plettenberg Bay has found a
Tokoloshe Trouble: Body of Elongated "Alien" Creature Discovered in South Africa
. The Tokoloshe are goblins that are said to harass locals. Looks a little like a dedicated corpse of some animal to us, though, maybe even of a baby baboon, as one vet commented.
Letter to Sasquatch
Posted by:
Craig Woolheater on July 13th, 2013
Would capture be worth the cost to humanity?
Posted by:
Craig Woolheater on July 12th, 2013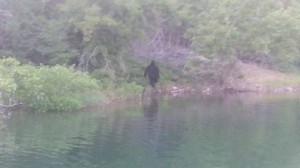 The pictures were reportedly snapped on July 4th on Table Rock Lake near Kimberling City, Missouri, and appear to show an extremely large, fur-covered humanoid strolling along the water's edge.