Posted by:
Lyle Blackburn on June 18th, 2013
Novelist Eric S. Brown announced that Origin Releasing has acquired the motion picture rights to his "Bigfoot War" book series. The series, which started in 2010 with a novelette simply titled "
Bigfoot War
," has now grown to seven installments that include rampaging bigfoots, zombies, and even bigfoot zombies!
Posted by:
Craig Woolheater on June 18th, 2013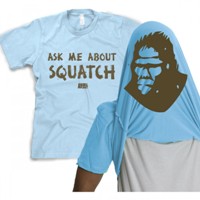 Go Squatching in style!
Finding Bigfoot
fans: TODAY ONLY – get 20% off this Finding Bigfoot Flip T-Shirt.
Posted by:
Nick Redfern on June 18th, 2013
"The Old Alton Bridge is situated in the Texas town of Denton. It is roughly about an hour's drive from where I live and has a very strange and monstrous legend attached to it. It concerns nothing less than a terror-inducing Goat Man…"
Posted by:
Craig Woolheater on June 17th, 2013

SquatchIt has been scientifically designed to be the most accurate, powerful and loud Sasquatch call that will help anyone scare friends on a camping trip, heckle politicians and raise a ruckus in general.
Using the scientific term "Big Hairy Buggers", two witnesses anonymously recount their encounter with a Yowie that crossed a paved road in front of their car in Bexhill. Yowie sightings in Australia aren't uncommon but Yowies seem to be a bit more reclusive than their American cousin Bigfoot.